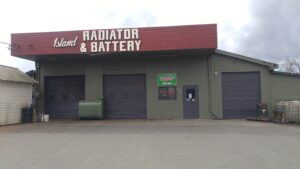 At Island Radiator and Battery we specialize in rebuilding radiators, alternators, and starters. Replacing components completely is not always necessary. Don't just treat the symptoms, come down to the shop so we can diagnosis the source of the problem. For example, a dead battery could be a sign of a bigger problem like a failing alternator; in this case replacing the battery will result in another dead battery. Give us a call or come visit us and take advantage of our expertise.
Radiators
Island Radiator specializes in rebuilding radiators for industrial, farm, marine equipment, and vintage and classic car systems.
Starters & Alternators
We diagnose, test, and rebuild starters & alternators on site. We can service automotive, industrial, marine, farm, and classic / vintage starters and alternators.
Batteries
We stock and order batteries for many different applications.
Automotive batteries
Industrial batteries
Marine batteries
Storage
Cottage & cabin batteries